Pride @ Work: Jennifer Brown, CEO of Jennifer Brown Consulting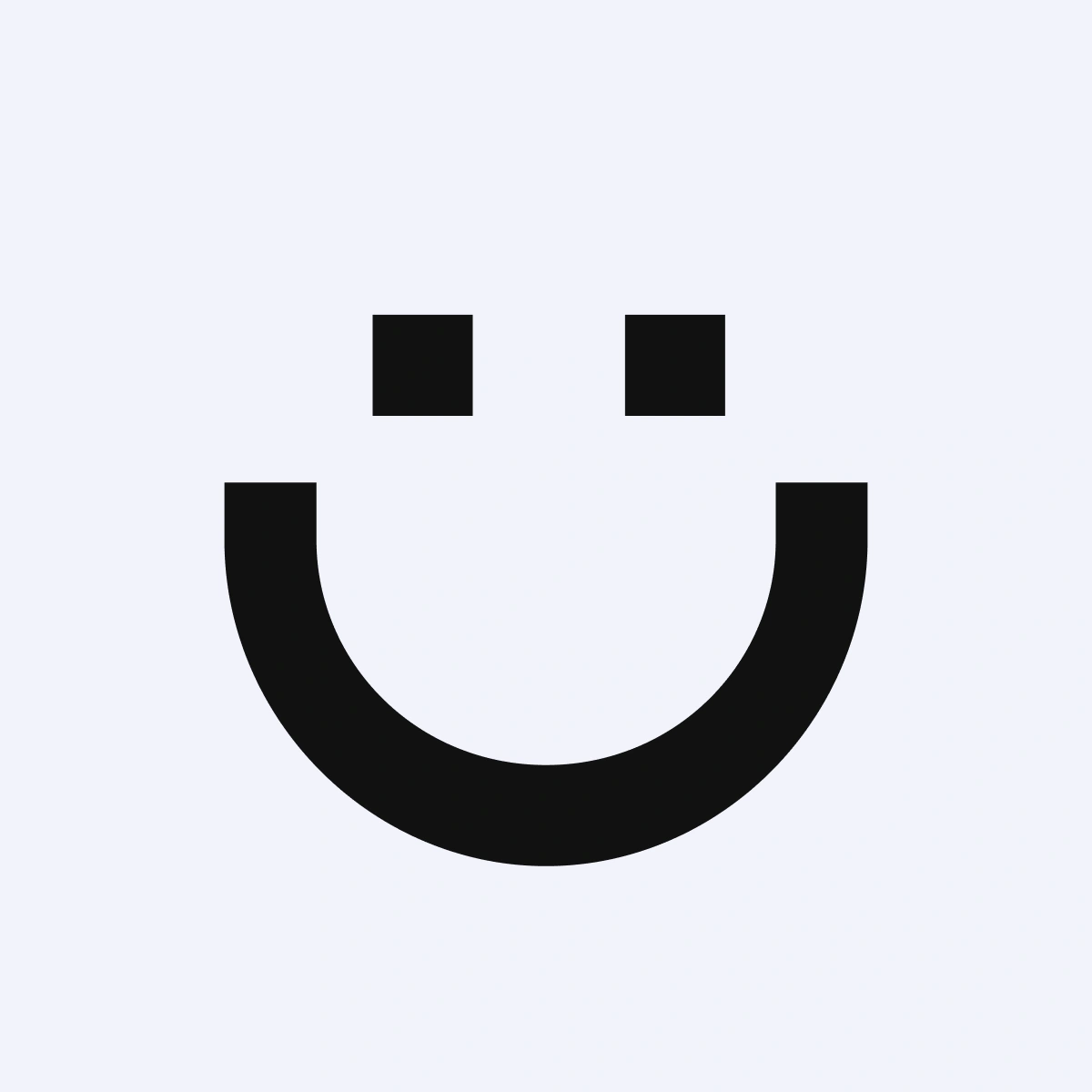 Over 400 anti-LGBTQ+ bills have been introduced in state legislatures across the US since the start of the year. This Pride Month, Dandi is speaking with leaders across the DEI space to learn what Pride means to them, and how organizations can support LGBTQ+ employees at a time of increased political attack.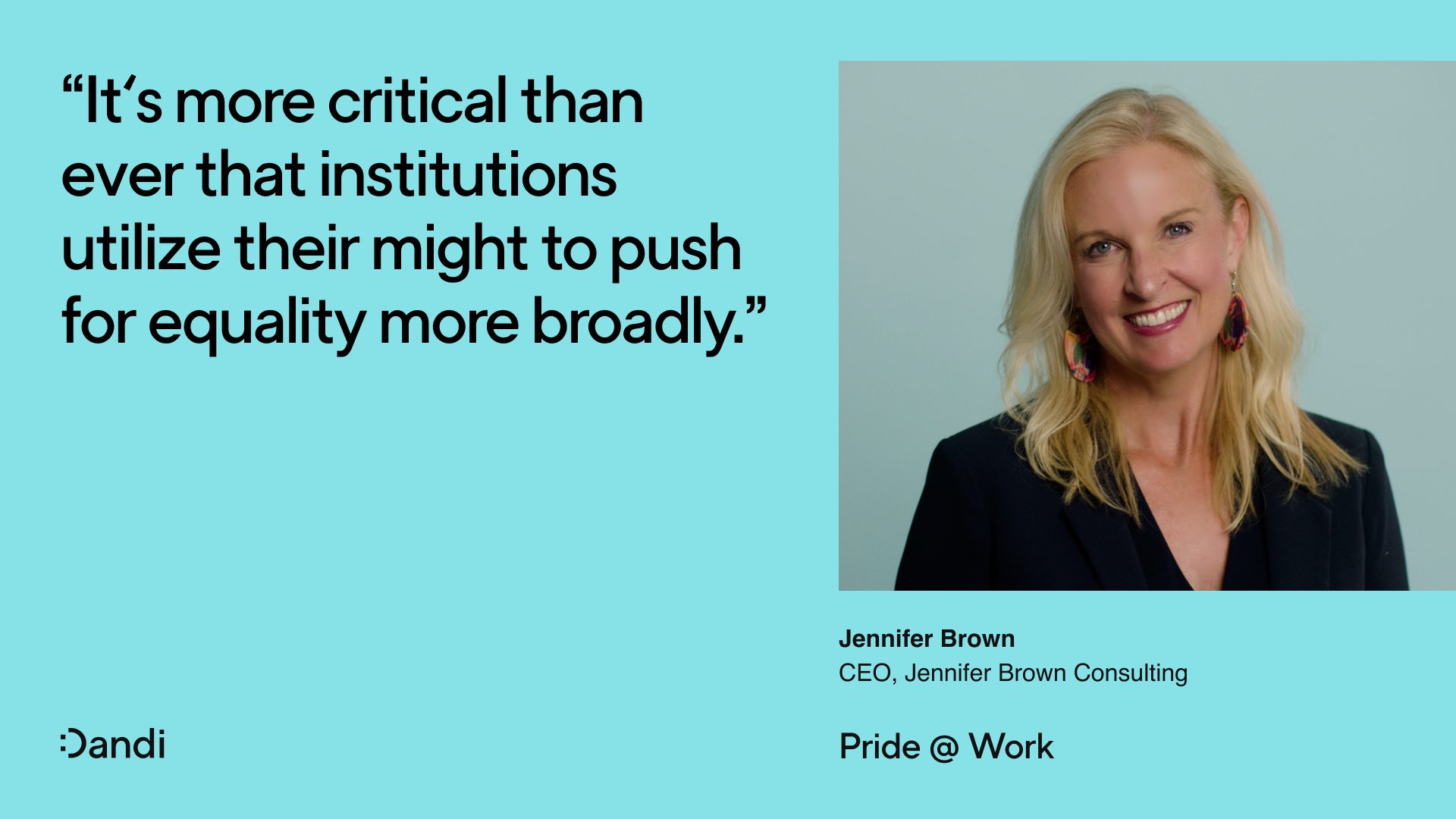 Words like "legend" are thrown around a lot these days. But if there's anyone that qualifies for such lofty labels, it's Jennifer Brown.
As CEO and Founder of Jennifer Brown Consulting (JBC), Jennifer has left an indelible mark on the DEI space. Through JBC, she and her team have designed and executed inclusion strategies and trainings for some of the biggest companies and nonprofits in the world.
Jennifer is the author of four books on inclusive leadership, including her most recent, "How to Be an Inclusive Leader," which is currently in its second printing. Her podcast, "The Will to Change," is one of the top DEI podcasts today.
Here's what she had to say about Pride.
1. What does Pride Month mean for you?
Even though I've been out now for over 30 years, Pride month is still an emotional one for me. I am not only reminded of my own journey – from the fear and excitement of coming out to discovering this whole new community that would support, inspire, and teach me – but I feel an enormous pride to be certified as an LGBTQ+-owned business for nearly 20 years, and to have the opportunity to teach inclusion from stages around the world, speaking and writing from my own lived experience, and sharing my vision of a workplace – and a world – where all of us can thrive.
More than this though, it's a time for me to remember how many around me every day, and around the world, are still facing their fears and grappling with safety, disclosure, discrimination, and persecution. Given the record number of anti-LGBTQ+ bills making their way through the country, this sacred time always re-ignites my energy and focus on the work ahead, and reminds me of my relatively more comfortable circumstances. From this place, I recommit to give back, and give more. 
This is why the celebrations of this month are so important; for a community who's experienced such invisibility and stigma, to be prioritized, and to be the focus of so much positive education, empathy, and celebration, matters more than ever. We must mark each step in our progress, too.
What makes me happiest during Pride Month is to see how many companies are taking strides to publicly support the community, in some cases at greater risk than ever before given the political climate. Although I know this kind of corporate support can be performative, or non-existent, I still see legions of long-time and new supporters, with each passing year, standing up for us. I often get to play a part in helping organizations awaken and mobilize in this way, which is deeply fulfilling work.
2. In many places across the country, the rights of LGBTQ+ folks are under renewed attack. What are some ways that employers can show up for their employees at this particular moment?
It's more critical than ever that institutions go beyond "business as usual," and utilize their might to push for equality more broadly than their "four walls." The most recent Edelman Trust Barometer found that business is still the most trusted, over government, and with this comes the responsibility to stand up for and protect marginalized people—whether they be the employees within those organizations experiencing workplace bias, or customers and stakeholders experiencing societal bias. This all impacts companies' ability to succeed and grow—environments of belonging are critical to creativity, innovation and customer relationships. Younger generations of talent and customers are also raising their voice and demanding that more be done, and companies ignore this at their peril. 
Employers should not just wait for Pride month but communicate 365 days a year that LGBTQ+ people are an important priority, that they're not where they should be on a variety of metrics, and how they're holding themselves accountable for progress.
Studies show that nearly 50% of LGBTQ+ employees are still closeted in the workplace, which harms not just the individual but the institution. Closing gaps in representation, belonging, and promotion and advancement should be a focus. The work is never complete, but progress matters, and transparency is key—acknowledging challenges openly and tackling them systematically goes a long way. The active support and sponsorship of affinity groups, LGBTQ+ 101 and allyship education, and community engagement are all areas of focus that can accelerate this journey. 
Companies also increasingly need to be on the front lines of the difficult but necessary culture debates, as their employees and constituents are directly impacted by these and there is considerable reputational risk to remaining silent. Many savvy organizations are trying to walk the walk of their values, jumping in and leveraging their might, while others are sitting on the sidelines—which may feel like safety, but can have an equally negative effect on morale and company culture. 
3. How are you celebrating Pride this year?
I usually have a very busy speaking schedule during Pride, and enjoy every moment of it because I get to connect with audiences and companies at a unique time of celebration, community, and shared humanity.
At this time of year, I also make a point to thank the allies in my life. Allyship has shifted opportunities for all of us and provides such invaluable air cover for many vulnerable people as they make their way to the destination of authenticity. Lastly, I check in on my allyship; how am I standing up alongside those in my community who deserve more of a voice? 
4. What's a favorite Pride celebration you've been part of?
Although they get longer every year, the New York City Pride Parade defies description—in its scope, energy, music, diversity—like all things NYC, it's larger than life, and still takes my breath away. I love running into friends, seeing my clients marching, and witnessing all the new and growing organizations marching every year—communities that I never knew anything about, registering their values in public and showing up publicly. Such a powerful reminder that LGBTQ+ people are everywhere, in every facet of life, and in every variety of humanness. It's beautiful to behold, and be a part of. 
5. What's one tip you have for other orgs that might want to celebrate Pride, but don't know where to start?
The Disability community has a saying: "Nothing about us, without us." 
It's so critical to find internal champions to consult with for Pride, and they do exist; every org has either LGBTQ+ people in it, or if no one is out, at least allies who can inform the work and help lead the charge. If an LGBTQ+ affinity group exists, they can effectively develop and steer a Pride strategy. External partners or community orgs can assist as well. Either way, going to the community for this is the ideal scenario because they know the landscape best and can guide the company on what will resonate. 
Failing this, orgs can pull together a working DEI group of folks passionate about equality to look at what can be a small effort to mark the month—at least to start. Possible activities could include a message of support and celebration from leadership, gatherings and events, a speaker or panel, or a small philanthropic donation to a community organization in their ecosystem.
Other cultural heritage months may be already celebrated by a company, and those models can be leveraged for Pride month as well.