DEI Journeys: Total Wine & More's Dwight Phyall is probably the world's only sommelier DEI leader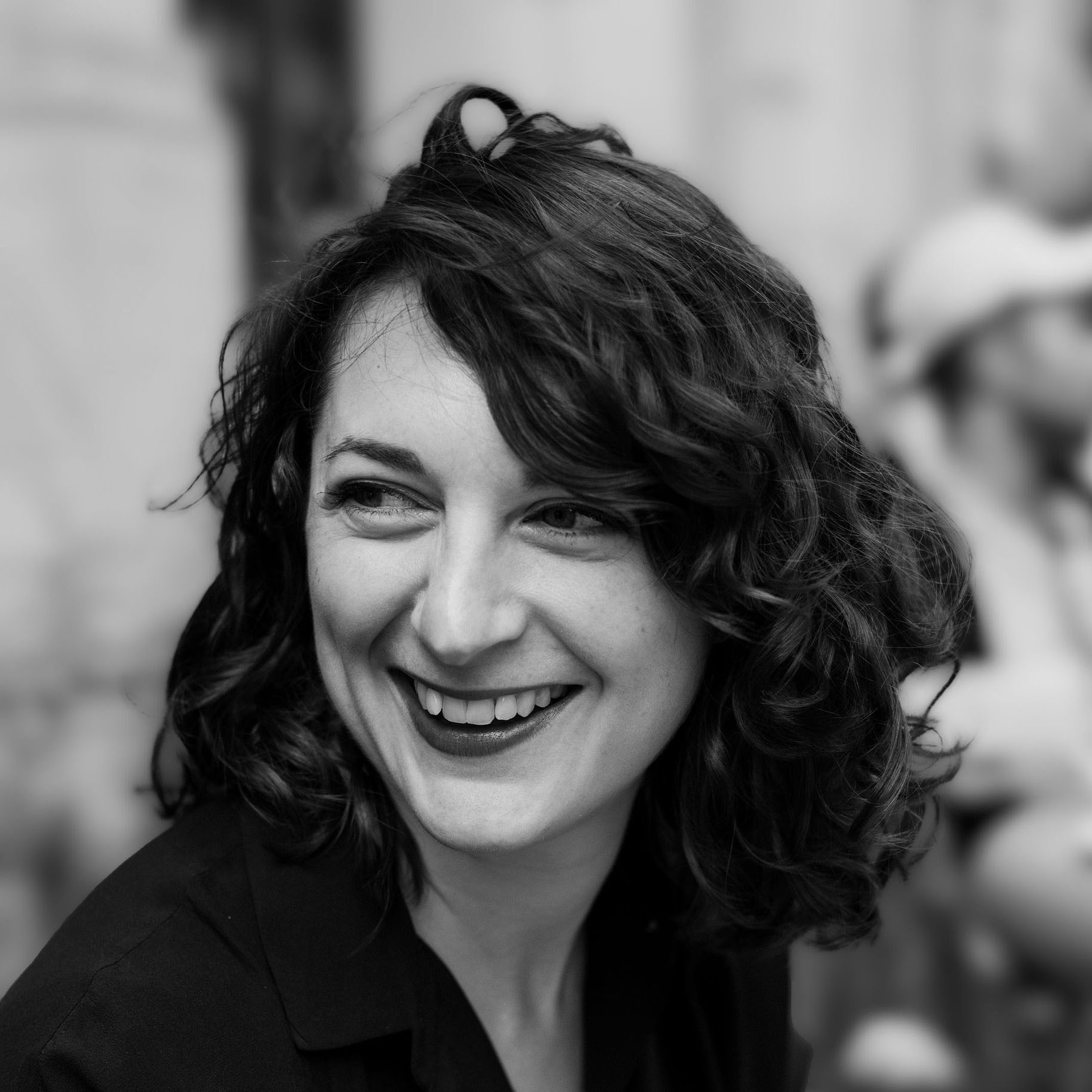 DEI Journeys is an ongoing series highlighting the diverse career paths of leaders across the DEI space. Today, we're featuring the one-of-a-kind story of Dwight Phyall.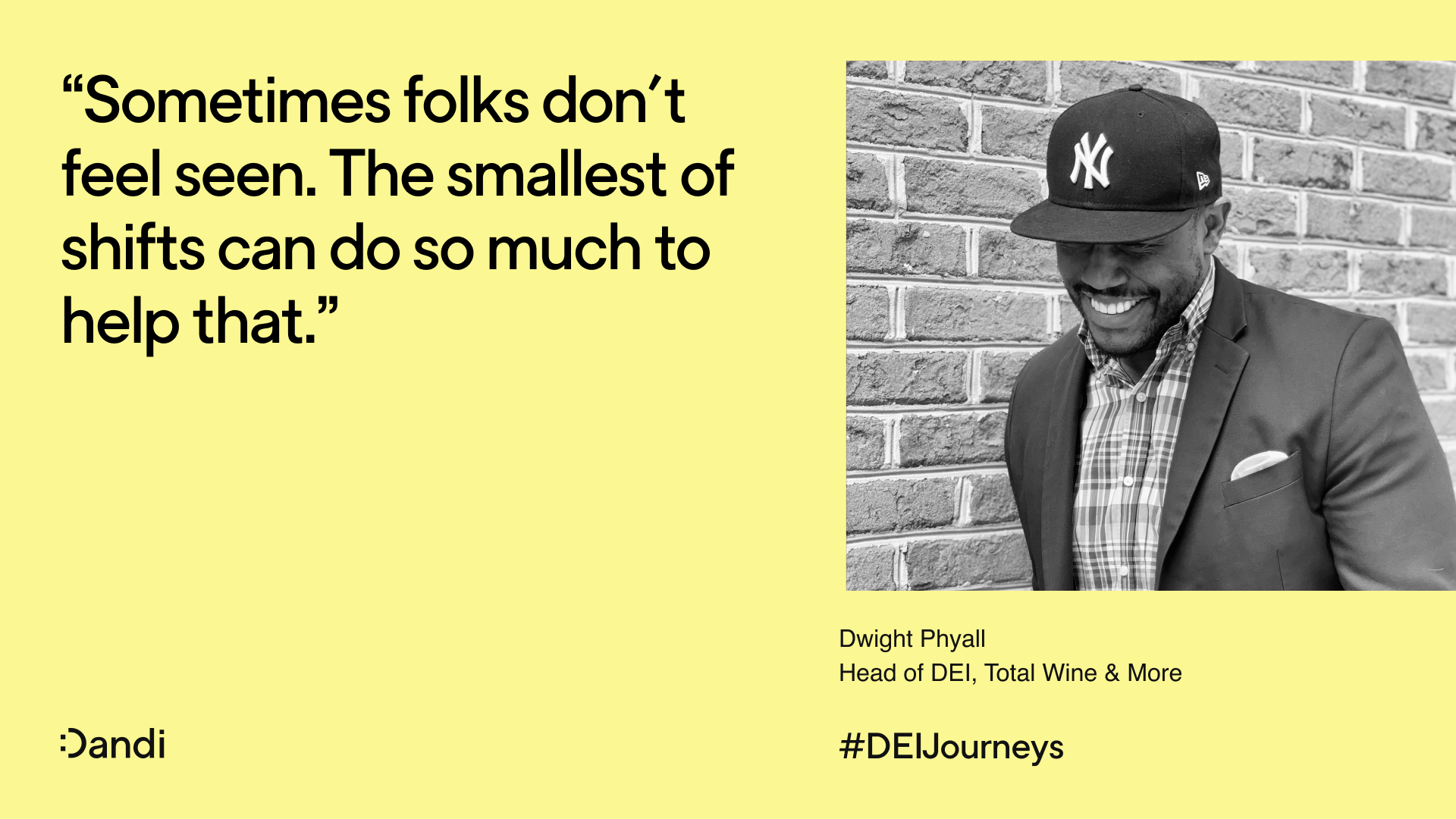 How does one find themselves leading DEI for a 10,000-person wine and beverage retailer?
According to Dwight Phyall, being a certified sommelier definitely wasn't on the job spec when he applied for the role of Head of Diversity, Equity, and Inclusion at Total Wine & More. But it didn't hurt, either.
"The wine thing—," he chuckles. "I actually got into it because I wanted to drink something a bit more quote, unquote sophisticated, so I went to the liquor store and picked the bottle with the prettiest label. I really wanted to be better than that, so I started learning everything I could by volunteering at a shop after work, and training for my certification."
But knowing his way around a wine list is just one of the career milestones he's accomplished on the path to becoming a DEI leader at the $5.5 billion revenue drinks company. 
Dwight had been serving underrepresented people, in one way or another, for most of his adult life before he got his first stint in DEI. Recruited straight out of college as a scout for the Philadelphia Eagles, Dwight quit the mud and melee of the sports field to take a year out to volunteer with AmeriCorps.
Unexpectedly, sports led him back to his true calling.
"I was running this after-school program for fourth and fifth graders," he says. "There was this nonverbal student—she was one of maybe 15 kids in the class. At that time, we were focusing on sports, and we were playing basketball. I line the kids up to do free throws, and Maya—the nonverbal student—gets in the back of the line as she always does.
"The first student in line hits the rim. The second makes the shot. We keep going through the line until we get to Maya. Everyone around her is kind of snickering. She gets the ball in her hands and crouches down right up close to the basket. She makes the shot. All the kids cheer.
"And she comes up to me and taps me on the shoulder saying, 'Coach D, I made it.' It was the first time I'd ever heard her talk. It made me realize that if you put people in a position to be successful, there's no limit to where they can go."
If you put people in a position to be successful, there's no limit to where they can go.
Dwight's biggest learning stepping into a DEI leadership role: Managing strategy at scale
Life after AmeriCorps took Dwight to the Department of Labor, where he worked on creating technical work programs for low-income 16 to 24-year-olds as part of the National Office of Job Corps. The experience taught him a lot, he says, about seeing people succeed despite the odds.
"I saw folks going from having almost nothing to getting a sufficient income that could sustain their needs," he says. "Seeing that progression from where they started to coming back and mentoring other students was incredibly powerful."
But joining health provider Oscar Health as the Program Lead of Diversity, Inclusion, and Belonging in 2020 during the aftermath of George Floyd shifted his internal drive from serving the underrepresented to pushing for more equitable outcomes.
It was a time when global social media had become an endless midnight of blacked out tiles. Corporate entities were wrestling with how to show support without looking performative. And Dwight knew that any DEI efforts he put his hand to needed to be both intentional and substantive.
"What we were doing at Oscar Health felt measurable, tactful, and real—it connected back to the business," he says. "We wanted to make sure that we had a connection to each one of our patients, our clients, and all the doctors, and that they felt comfortable being in a space with someone who knew what they were going through from a cultural standpoint. We wanted to put our money where our mouths were."
Moving from the 1,000-person team at Oscar Health to a 10,000-strong retail organization like Total Wine & More came with new DEI challenges. And where there's a big footprint, there are big shoes to fill.
"We have entirely separate cultures across our different stores, between different regions, and between the corporate and retail sides of the business," Dwight explains. "Our folks on the sales floor only have time to absorb a fraction of the DEI initiatives and content we share compared to how we engage with it at the corporate office. Like any other retail organization, we have to be very intentional in setting a DEI strategy that makes sense for the whole, not just what we think works from afar."
Creating a strategy that works for the whole, Dwight says, involves finding out what the whole wants and needs to feel belonging at work.
"When scaling DEI in a big retail organization, you can't take actions from the corporate office based on your own subjective assessment. You need to hear from the people on the sales floor. You need to understand how folks have reacted to past actions, what has been meaningful to them, and what will be successful for the largest number of people.
"If you don't know how people feel about coming to work each day, then you can't make changes that feel meaningful to them."
DEI isn't about me—it's about everyone else. This work is iterative. Our society is fluid, so the work has to be. If you're not constantly on your toes, you're in the wrong profession.
Dwight's biggest success scaling DEI: Understanding the wider impact of individual stories
In a 10,000-person organization, it's easy to lose sight of people. But when that organization operates over 250 stores across the country, each with their own unique needs and cultures, it dials up the difficulty just a notch.
Dwight knew that to make the biggest impact in DEI at Total Wine, he needed to understand its people. To do that, he needed to find out what they were thinking.
"One of the battles you have to face in this space is being performative—or being construed as such," he says. "If you show support, march in a parade, or hang a banner… You have to strike that balance between taking intentional action and pushing people to be more educated and aware.
"In retail, you need to visit the stores and listen to people to make a real difference on DEI," Dwight adds. "One of the most important things I've learned was that folks sometimes don't feel seen. The smallest of shifts can do so much to help that."
Listening to people is how Dwight found out that one person from Total Wine's retail team wasn't feeling included.
"It was our name tags for the sales floor team," he says. "They're just a name—they don't tell a story about who that person is or how they identify. But when one of the sales floor team members wrote in to tell us they were being misgendered, it was our chance to listen."
From a logistics perspective, changing store name tags was a small thing. But it ended up having a huge impact. Because it didn't just mean that the one employee in Washington State felt more seen, or that they could come to work as themselves. It also meant that countless others, who were thinking and feeling the same, did too. To Dwight, that was the whole point of building a strategy that works for the whole. 
"We wanted to make sure that all of our team members feel supported in being identified the way they want to be identified," he says. "We changed our name tags so that employees now have the option to identify themselves with their pronouns if they want to. It was a huge success among our wider team. That's all that counts."
Dwight's one action that made the most impact: Applying project management principles to DEI
For the entirety of his career, Dwight's experience has kept coming back to project and program management. It's just what he knows how to do, he says, but the experience has been instrumental in how he's approached each of his DEI roles so far.
"Our world and our society is progressively more fluid than ever before," he says. "Operating in it requires one to be more open-minded, nimble, and agile so I can navigate, educate, and advocate.
"My experience in program and project management has allowed me to have a more keen understanding and awareness of prioritizing, and implementing the right procedures, processes, and resources in place to get a job done. It helps me maintain a mindset of continuous improvement and iteration."
As DEI continues to evolve, Dwight has found himself drawing on his project management experience to stay responsive to new challenges, and make sure his DEI strategy continues to stay in step with both Total Wine's strategic and workforce needs.
His philosophy boils down to a few key tenets:
Sometimes less is more. "Never underestimate the importance and impact of making subtle changes," he says. "Crawl before you can walk. Don't try to boil the ocean. All the clichés ring true here." Instead of making big gestures, Dwight's strategy is based on smaller actions that contribute to measurable progress coupled with continuous testing and measurement.

Leverage relationships for continuous feedback. "Getting the feedback from our customers and our employees alike is a huge privilege, and there are so many DEI flagship projects that we have put in place that we know will be long-lasting," Dwight says. Dwight gathers input from employees and customers to improve how DEI contributes to the business. Consumer surveys tell him what customers care about, while cross-functional teams on key campaigns create internal DEI feedback loops.

Continuously evaluate gaps and opportunities. Increasing capacity for progress means staying responsive to challenges old and new. Dwight continuously draws on DEI data and analytics that inform an ever-evolving approach to DEI, talent, and culture across the organization. Quarterly reporting among teams creates trickle-down data stewardship, while employee feedback identifies gaps and opportunities in the employee experience. 
Dwight's growth mindset on DEI doesn't just apply to his career—it's fundamental to who he is as a person. He's always asking questions as to who he is, and what he stands for in this space.
"Being the first person to kind of build this function up [at Total Wine] has been so meaningful," Dwight notes. "To be able to set the strategy, to identify the gaps and opportunities that we have as a company, but also highlight some of the strengths that we have and the people that help to serve and make our company what it is—that's what I'm here for.
"But I still ask myself daily: Am I qualified enough? Do I have a voice? Do I have buy-in from the people that have the biggest level of influence? Do I have the energy to sustain what this is and what it could be?
"Then I think: DEI isn't about me—it's about everyone else. This work is iterative. Our society is fluid, so the work has to be. If you're not constantly on your toes, you're in the wrong profession."